Designing a "Big Boy" Room for a Preschooler
Last year my sister-in-law offered to give us Liam's cousin's gently-used toddler bed. We happily accepted thinking he'd make the transition soon. He liked the idea of sleeping in a "big boy" bed, but always seemed to go back to his crib. I wasn't really in any rush – he never once tried to climb out of his crib – so the urgency to get him transitioned was just never there. Then last month he started expressing interest in sleeping in his toddler bed so we agreed to try it for a few nights and see how things went. Other than evidence of few post-bedtime car playing sessions, it has gone really well. After almost a year of Liam's toddler bed collecting dust, he's now fully made the transition from the crib to the bed.
But of course, now that he has made the transition to the toddler bed he's almost too big for it. So we're looking into some REAL big boy beds. Liam is excited to pick one out and plans to ask Santa to bring it to him for Christmas (a practical Santa gift? Jackpot!). Changing the bed has got me thinking about changing a few other things in his room. It really hasn't changed much since I decorated it before Liam was born and since we didn't find out his gender while I was pregnant, he's been stuck with an aqua room with pale green accents – lovely for a nursery but not quite fitting for a preschool boy. So, I've been doing some thinking about designing a big boy room for my preschooler.
Transitioning the Nursery to a Big Kid Bedroom
Paint: We'll definitely paint but I'm thinking we'll stick to a neutral color and let the decor and accessories add color and brightness to the room. We love our house, but it's small and our plan is to move on in the next few years so I figure a neutral is safer for resale. Plus, I love some of the neutral kids' bedrooms I've seen around the blogosphere (like the one below from Young House Love).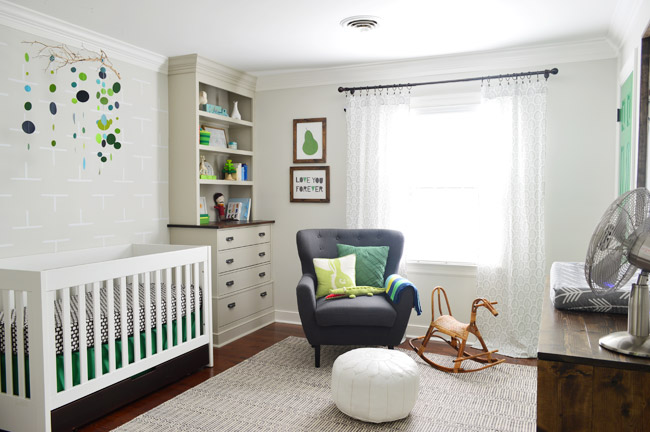 Bed: I'm thinking of getting Liam a twin day bed. His room is fairly small and really needs to be a multi-functional space. I think the daybed will give him a place to sleep as well as a comfy place to sit and read (and some much needed storage underneath too). I love the one below from House of Ruby.
Updates: We have a bunch to make, but one I'm definitely considering is finding an alternative to the rain gutter bookshelves we installed a few years back. We love them but they haven't held up great so I'm thinking we may try something like the acrylic ones as seen on Pepper Design Blog (I love that they kind of disappear too).
Big Boy Area: Our house is a quirky old cape and Liam's room is one of the quirkiest in the house. It's got lots of little alcoves and niches and no wall in the room is perfect straight line which presents some design challenges but also some fun opportunities. Liam's room has a dormer with a built in window seat  which has basically become a catch all for stuffed animals. Liam now loves sitting looking out the window and of course, knocking all the animals in a pile on the floor below. I'd love to turn that little area into a more purposeful special play/reading nook.
Liam has said as long as his car rug stays and he can get Lightning McQueen sheets he'll be happy. That we can do. I'm still figuring out what to do in this room to reconfigure but slowly it's starting to crystallize.
Have you made the transition from nursery to big kid room? What changes worked for you?
RELATED RESOURCES: